EUR/USD: Weak US statistics can trigger the decline in quotes
Current trend
Last week European currency continued to decline, breaking out several key support levels. Weakening in the European currency is associated with low inflation and poor macro-economic statistics. In addition, election to the European parliament also increased pressure on the pair.
At the beginning of this week the pair traded near three-month lows. The fact that upward correction has not occurred, suggests that investors' interest to Euro is low. Today mixed statistics of the largest EU economics have been released. It became known that unemployment rate in Germany has remained at the previous level while the number of unemployed has increased. Consumer spending in France has declined. Tomorrow is a Banking Day in EU, so news from there is not expected, at the same time preliminary US GDP for Q1 will be published. According to the forecast, American GDP can be revised to the negative value.
Support and resistance
High volatility is not expected today due to lack of important macro-economic news. Breakout of the key support level of 1.3600 is unlikely; however significant ascending correction is not expected either. If the US GDP forecast proves to be correct, the USD can significantly drop, demand for the USD may decrease, and in this situation European currency can regain some of the losses and go up to the level of 1.3720.
Support levels: 1.3600, 1.3520, 1.3470 and 1.3400.
Resistance levels: 1.3660, 1.3720, 1.3770 and 1.3800.
Trading tips
In the current situation it makes sense to place pending sell orders from the level of 1.3720 with take profit at the level of 1.3470 (1.3400) and stop-loss at the level of 1.3790.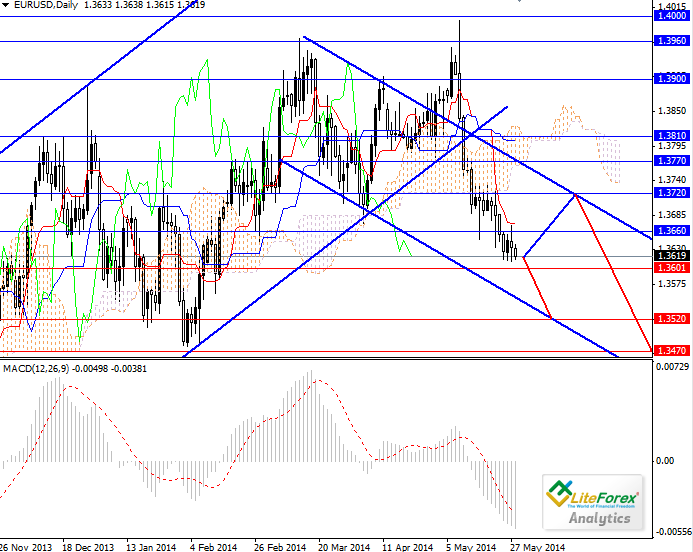 Dmitry Likhachev
Analyst of LiteForex Investments Limited