GBP/USD: The pair will stay in the upward channel
Current trend
At the end of last week the price of the pair GBP/USD has declined. In advance of the release of the British GDP, investors started to buy British currency. However, as soon as it became clear that the predictions were correct, the demand for the Pound has sharply dropped and the pair started to decline. Economic growth rate in the UK is slowing down, and in the situation when the Pound is significantly overbought, even minor decline in the economic indices can trigger strong pressure on the British currency.
However, it is worth noting that the USD is also weak; that is why the pair is still near the local highs. The data on the US labour market was again below the forecast. It is the bank holiday in the UK and the USA, which means that the high volatility is not expected.
Support and resistance
It is expected that soon upward movement will shift to the sideways trend in the range of 1.7000 – 1.6810. Strong fundamental catalyst is required in order to break down important psychological level of 1.7000 and the USD is not strong enough to break down the bottom limit of the ascending channel. In the medium-term the pair will move in the sideways channel and may break down the local highs, in case the Bank of England reduces the volume of quantitative easing program or raises the key interest rate,
Support levels: 1.6810, 1.6760, 1.6660 and 1.6600.
Resistance levels: 1.6850, 1.6920, 1.6950, 1.7000 and 1.7100.
Trading tips
In the current situation it makes sense to place pending short orders from the level of 1.6810 with take profit at the level of 1.7000 and stop-loss at the level of 1.6790.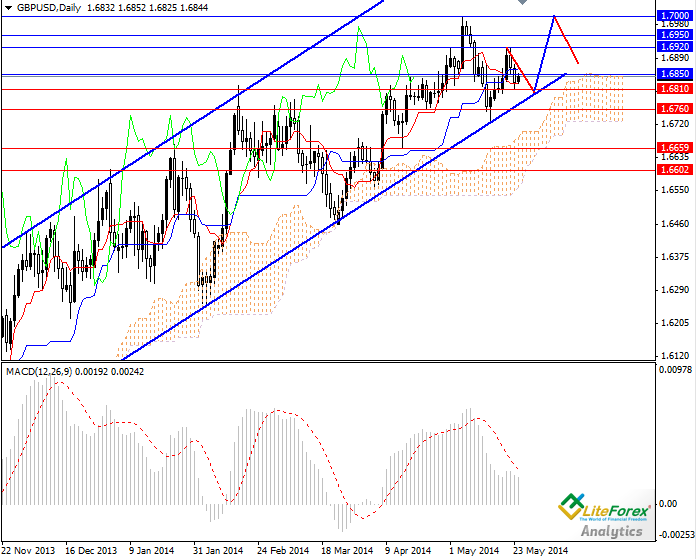 Dmitry Likhachev
Analyst of LiteForex Investments Limited